I've decided to participate in the Project 12 challenge that Davinie Fiero organizes every year, along with Scrapbook and Cards Today magazine. The sketch was posted Feb. 1, and here I am with the layout finally finished on Feb. 28 — nothing like waiting until the last minute, eh?!
I really enjoyed documenting a whole month in one layout. Here is the journaling:
"Seriously, is there any better way to start a new year than with a big pile of presents?! Our belated Christmas celebration with my parents included champagne the night before, and then a morning of unwrapping gifts, homemade waffles, and lots of snuggling for Sara with Nana and Grandpa Pauls.
My first big project of 2011 was to help turn several months of "revisioning" work by our church into something tangible: a TV documentary from the year 2020, focusing on the impact La Ronge Alliance had had on its neighbours. Kelly Provost introduced the finished film to the congregation in the Sunday service on Jan. 23.
Sara had a CT scan done on Jan. 6 at Saskatoon's Royal University Hospital, and our little extrovert entertained the patients and hospital staff while we sat in waiting rooms. We were very relieved to learn that Sara's skull sutures have not fused prematurely, and there is no sign of pressure on her brain.
I started doing some paid work again, helping Eagle Point Resort with cottages and houseboat bookings, and writing newsletter copy for the Athabasca Basin Development Corporation.
We tried to go down to Saskatoon again on Jan. 22 for Aaron and Laura Haight's wedding reception, but after 30 minutes in "white out" conditions, we turned back. Sara still had her sleepover at Grandma and Grandpa Orthner's, though, while we spent our first childless night in 11 months organizing the church's financial paperwork.
Sara worked on eating more adventurously, and once she even had the same supper we did (baked salmon, peas and carrots, and rice pilaf) and ate it all. Bryan decided it would be cheaper to make his own yogourt for her, and figured out how to do it in the crock pot.
I, on the other hand, worked on eating less, and saw steady downward progress (finally!) on the scale at our weekly Weight Watchers meetings. I started attending a weekly circuit training class at Fitness 24/7, and my Wii Fit "age" is no longer 70-something!
One afternoon, I thought Sara had a really snotty nose, then realized the goop was all over her face. I discovered she had gotten into a container of Vaseline and smeared it all over her face, her hands and her change table, plus torn up a roll of diaper liners. I remembered the first rule of being a scrapper mom: take pictures first! So I posed her in the midst of the "crime scene", took my shots, THEN dealt with the mess.
Other highlights included signing off on our revamped mortgage, Bryan preaching about 7 signs of a healthy church, a high energy concert by the Sultans of String, and Bryan's mom's 64th birthday party. Darcy and Angie brought two huge pans of lasagna, Janelle baked a chocolate "wacky cake", Sara climbed INSIDE the toy box to play, Theo tried to grab the barely-extinguished sparklers, and Ruth is unlikely to forget her party any time soon!"
And the layout: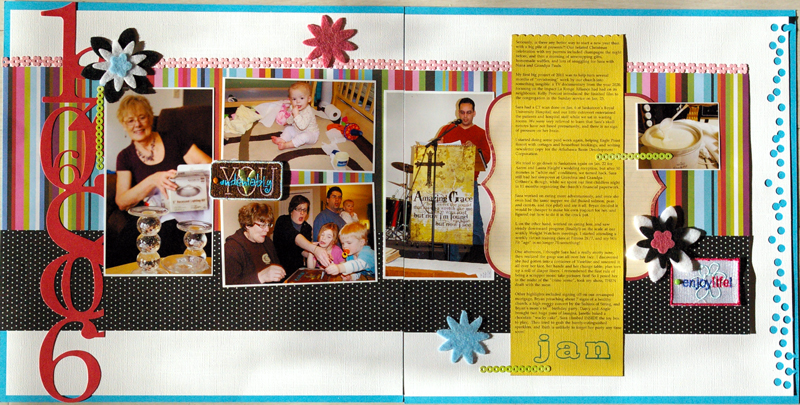 Thanks for stopping by.