Here is a card that I made today.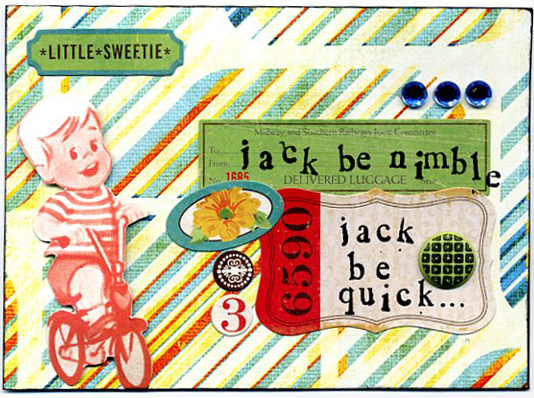 Our friends Rennea and Mark had their third child (note the "3″ on the card!) on April 20, and I'm going to the baby shower this coming weekend for baby Jack. We're giving him a book of Mother Goose rhymes, and that inspired the "Jack be nimble" theme for the card.

I don't have a lot of "baby boy" stuff in my stash, so I improvised. The background paper is Sassafrass, and I cut the line drawing of the little boy on a bicycle from a piece of Studio Calico patterned paper (this one is from before they went mass market with their papers — it's called "Swell"). I made a collage out of label stickers from the new Emma's Shoppe line from Crate Paper, and stamped the words with some truly vintage alphabet stamps from PSX. I clearly need to brush up on my stamping with wood-mounted rubber stamps, but I think the wobbly lettering is actually a bit funny with the text "Jack be NIMBLE". LOL. The text inside says "Congratulations on your new son". The green patterned brad is from American Crafts.
Thanks for visiting.