Hello blog hoppers, and any other friends who may have stopped by — thank you for coming!

Since I can't invite you all to an actual housewarming party, what better way to celebrate my brand-new blog than by taking part in my first-ever blog hop, as this month's guest designer for the All About Me challenge blog. If you are in fact participating in the AAM November blog hop, this is your last stop before "heading home". You should have arrived here from design team member Rani Shah's blog. If you aren't taking part in the hop but would like to, head over to the AAM site to find the links that will enable you to hop from blog to blog, and have a shot at winning a prize.

Just so you know — you MUST comment on my post, as well as on the other blogs, in order to be eligible for that prize!

Once you're done here, head back to AAM.

On to what I have to show you…
This month, the AAM team members are celebrating our "inner princesses".
Being Canadian, I am accustomed to seeing Queen Elizabeth II on my money, and I know that one of the privileges of royalty is not only having your face on every newly-minted coin, but having lots of that coin to spend on whatever material goods — or staff! — you may desire. I am of course well aware of the foibles and failings of Britain's (and the Commonwealth's) royal family, and of the responsibilities they carry, but there is still a certain magic in the notion that even in the 21st century, a woman can still be swept into the arms of her beloved prince and joined with him in a fairytale wedding, become a princess (or even a queen!), and henceforth live a life full of luxury and privilege and really nice hats. (Surely I can't be the only one intrigued by those gossip magazine articles about Prince William's girlfriend Kate Middleton, can I?!)
My baby girl, Sara, has onesies that say "Princess" — which I feel are quite justified, seeing as she is sweet and lovely and strong of heart and all those princess-y things, and even when she isn't showing all those characteristics, her name is actually Hebrew for "princess". My hope for her as she grows, though, is that she will become an adult worthy of her name — that she will be assertive and sure of her place in the world, beautiful of face but also of heart and mind, generous, compassionate — and, if she so desires, blessed with a husband who adores her, and some really nice hats.

Anyhow — there is, as well, a connection between being royal and having what you want, when you want, and no one being able to say boo about it. Some may call it evidence of your "inner princess", while some may be as blunt as to call you a snob. So in that vein, here is some evidence of my "royal thinking".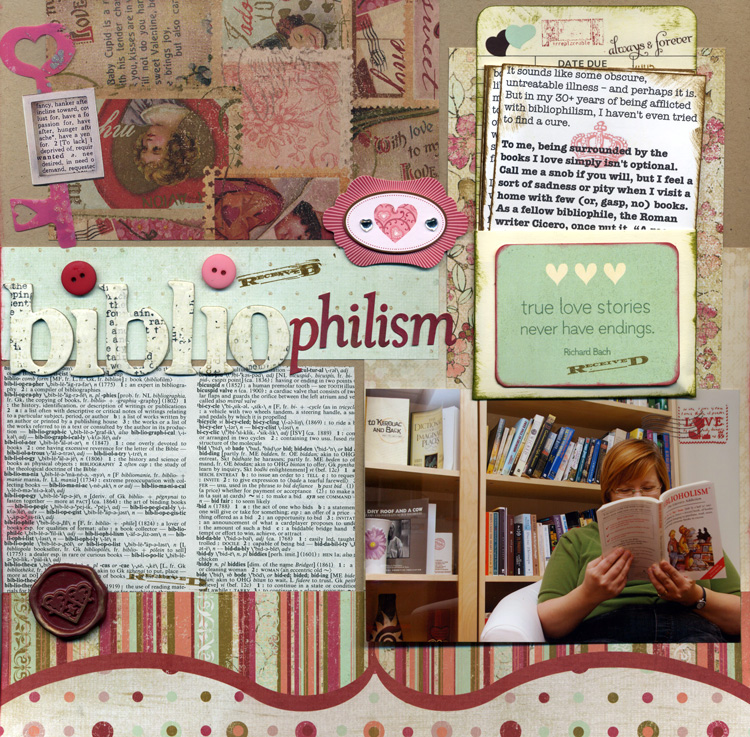 Notes about the journalling: the cards pull out of the library pocket, which is stamped inside with past dates (as well as today's!) and embellished with several rub-ons– and the journalling cards are embellished too, with inking, number stickers, a crown rub-on, clear rhinestone hearts, a bit of patterned paper and a "The End" rubber stamp. Larger journalling blocks tend to get neglected in the embellishing department, so I figured I'd give these a little "pizazz".

The journalling reads: "It sounds like some obscure, untreatable illness – and perhaps it is. But in my 30+ years of being afflicted with bibliophilism, I haven't even tried to find a cure.
To me, being surrounded by the books I love simply isn't optional. Call me a snob if you will, but I feel a sort of sadness or pity when I visit a home with few (or, gasp, no) books. As a fellow bibliophile, the Roman writer Cicero, once put it, 'A room without books is like a body without a soul.'
"I started showing symptoms of bibliophilism as a small child, not long after my first solo read-through of Marvin K. Mooney, Won't You Please Go Now at age 5. I recall feeling a deep sense of wellbeing on stepping foot inside any branch of the Regina Public Library, whether the travelling bookmobile, the central children's library, or our local branch in a strip mall on Albert Street. My parents had to impose a rule that I could only take out 10 books at a time, and my uncle was shocked at the weight of my suitcase one summer when I visited the family farm.
"I also remember my delight every year when our elementary school classes were assembled in the darkened gym for the slide presentation about the MS Read-a-Thon, to raise money for multiple sclerosis research. I particularly remember the joy of winning a red stuffed toy version of the MS Sleuth, the campaign's hound dog mascot, for reading the most books in our school.
"As an adult, I take an almost absurd pride in saying that there are over 2,000 volumes in our collection, and when I'm packing for a trip, I can't seem to stop myself from packing far more books than I will ever read. Fortunately (?), I married a man with similar symptoms, although not identical: he packs lighter, but wherever and whatever he is doing, whether folding laundry, cooking a meal, brushing his hair, or even watching TV, he is likely to have a book open in front of him – and he averages about 100 pages an hour.
"I have found comfort in libraries and bookstores wherever I have lived (especially a shop appropriately called Heaven Art and Book Cafe), have worked or volunteered in several, currently serve on the La Ronge Public Library board and was board chair for the regional Pahkisimon Nuye?ah Library System board for two years. On trips out of town, we are drawn like moths to a flame by bookstores, especially ones with coffeehouses attached (um – schmoo torte AND books? you know I'm going to be there!), and 'reading material' is a line item in our budget, despite the fact that we already have more books than we have shelves or time for.
"When we were evacuated from our mobile home in 1999, due to a raging forest fire, I forgot to grab my computer, but I did take my beloved, masking tape-repaired copies of Charlie and the Chocolate Factory and A Little Princess – and 11 years later, I named my daughter after the heroine of the latter book, Sara Crewe, who was also a fellow bibliophile.
"Our Sara Emily (her middle name is from Emily of New Moon) is barely eight months old and already (literally) devouring books – and even figuring out what they are for, which is good, considering she's already got a shelf full of them. Bryan was trying to get her attention the other day and she was ignoring him, until he held up Happy Baby Colors, better known here just as 'Book' – yes, that's with a capital letter. She spotted it, and headed for him at top speed. So – I'm guessing that bibliophilism is hereditary. And if not, I'm sure we can pass it on.

Journalling and photo: Nov. 1, 2010
Diagnosis of condition: permanent
Course of treatment: more books, please!

"
Supply list: kraft cardstock; ink: Tim Holtz – Ranger (green "Peeled Paint"), Color Box (red), Nick Bantock – Ranger (brown); patterned paper: Fancy Pants ("Vintage Valentine" – collage, stripe, faded flowers, blue dots), Pink Paislee (white on white hearts); embellishments: Making Memories (buttons, heart frame, heart rhinestones), My Mind's Eye ("love stories" punch-out), source unknown (glittered key), Creative Imaginations (wax seal); rub-ons: Pink Paislee (all love themed designs and crown), American Crafts ("Irreplaceable" bar code); stickers: Prima ("biblio"), Basic Grey ("philism"), Pebbles ("wanted" definition), Creative Imaginations (numbers); stamps: Heidi Swapp ("Received"), Catslife Press ("The End"), date stamp (office supply store); other: dictionary paper; font: Garamond Premr Pro