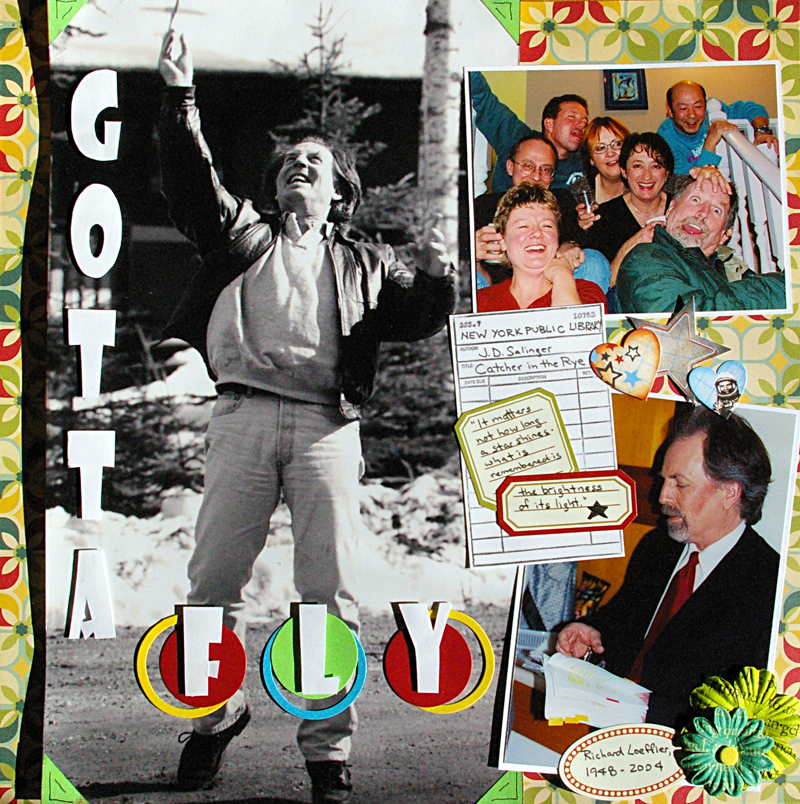 Here is my first-ever memorial layout — a project which I've wanted to complete for several years, and finally decided it was time.
This black-and-white photo of my friend Richard Loeffler (which I didn't take, although I wish I had!), together with the title work, has been sitting in my "unfinished projects" for several years. I pulled it out yesterday and realized that along with the layout not having enough room for all the journalling I wanted to include, I didn't like the cardstock background. Anyhow, I ended up with literally two pages of journaling, so I decided it would be best to tuck that underneath the big photo, but that left the right side of the layout blank. I dug into my stash of photos from my involvement with La Ronge's local amateur theatre group, Peanut Productions, and found these two pictures — both very classic "Richard".

The quote I pulled from the BookCrossing memorial page, which has a brief tribute to Richard, and the spaceman and stars came out of that — though again, I suppose they are a nice "nod" to the title, as well as to Richard's chosen avatar. I used a Studio Calico library card stamp to create a card for the copy of Catcher in the Rye that he took from a library when he was 12, and added some Prima flowers with text on them — I picked them because they had text, the colours matched, and Sara had been chewing on the container and dumped them all out, so they were on my desk already — but then I noticed that the text is from a dictionary definition and includes words like "kindness" and "qualities attributed to an angel", and I knew they were the right choice.

I love the title, which has layers of meaning — it's American slang, and sounds to me like something Richard would have said as he was leaving to go somewhere, and it also refers to the tiny airplane he's just launched in the photo, as well as to the "great beyond".
The journalling is way longer than anything I would post to a public gallery, but since this is my blog, I figure I can get away with it.

So here it is for posterity. (Note: I found the song lyrics yesterday, six years after picking the layout's title — I thought they were a fitting addition.)
When I wake up in the mornin' / I look at the sky up ahead, / and I wonder what it'd be like, / To be there, yes to be there.
Now I can tell you lots o' stories. / I can tell you how it should be. / But if you wanna find a good life, oh, take it from me, yes, take it from me.
'Cause you gotta fly away like the blue bird. / 'Cause you gotta fly away to touch the sun. / 'Cause you gotta fly away come tomorrow. / Can't you see? Lord, can't you see?
(lyrics by .38 Special)
He slipped away from us on a quiet spring afternoon while watching an old movie, just three days into his 57th year. Richard was never one for long goodbyes — I remember him ending phone calls with a "bye" so short and clipped, it sounded like barely a "b" — but it still caught everyone by surprise. And I think that the reason it was so hard to comprehend was that he had always been so fully alive. Just look at that photo our mutual friend Pat Davidson snapped of Richard releasing a tiny toy airplane into the air: the gleeful look, the feet bouncing up off the ground… it is so quintessentially Richard.
Thousands of people knew Richard as rloeffle of BookCrossing.com, where he was the leading "releaser of books into the wild". He left books everywhere: at restaurants, at Ice Wolf hockey games, and shipped up to the northern uranium mines, and the site tracked the books' travels around the world — some even ended up in Japan. The 7,000-plus books he "released" came both from his own large collection — partly the result of several years of running his own small book chain, R and R Books, for 25 years — and from cast-offs collected from both the La Ronge Public Library, where his wife Rosemary is still the librarian, and from the regional Pahkisimon Nuye?ah Library System (PNLS), where he was the office manager.
He did it because he believed that everyone should own books, and he had always intended to do it incognito, not realizing that the username he registered under (suspiciously close to his real name!) would also show up on the site. He eventually embraced his "fame", though, and was both profiled in our local weekly newspaper, The Northerner (in the photo, he was hiding behind a book) and interviewed for a USA Today article about BookCrossing. When Richard died, several of us sent e-mails to the owner of BookCrossing, and he actually didn't believe it. He was so sure that it was a prank, he sent an e-mail to Richard's account, asking if he was actually dead. Rosemary was very upset, and there were profuse apologies and a special memorial "release" in Richard's honour, but it says a lot about Richard's impish wit and zest for life that even someone who hadn't met him in person couldn't believe he was really gone.
Bryan and I did have Richard and Rosemary, whom Richard called his "storybook love", over for supper one night, and I also remember attending the Festival of Words in Moose Jaw with the two of them. After he started working at PNLS, he sometimes gave his boss, library director Audrey Mark, a ride in the mornings, and his insane driving ensured that she was wide awake within minutes of leaving her house. The PNLS board (on which I was serving at the time) later commissioned local artist Hilary Johnstone to do a painting in Richard's memory, and she chose to create a northern forest filled with vibrant colour — a fitting tribute indeed. I recall the story Richard wrote for The Northerner's wedding edition, about the odd beginning to his son and daughter-in-law's relationship at a bookselling convention, and interviewing him about his feelings as a native New Yorker about the Sept. 11 attack on the World Trade Center. (Even after 30 years in Canada, he could switch on his New York accent in seconds.) I remember him taking in both an orphaned dog (named Oliver, after the Dickens character) and a group of teenaged hockey players, and taking part in a CBC Radio special as an official "last minute Christmas gift shopper".
But what I will remember most are the times we spent together in two arts groups: the Wild Rice Writers and Peanut Productions. As befits a born storyteller, Richard enlivened many Ricer meetings at Northlands College with readings from his unfolding novel, The Big Prize, about the crazy goings-on behind the scenes at a game show (he was delighted by one character who finished the dastardly Rubik's Cube by peeling off the coloured squares and re-sticking them on in a finished pattern), and with his natural gifts for mischief, charm and disruption. I will never forget the evening that Gareth Cook, whose staff key allowed us to use the college for our evening meetings, forgot to turn the alarm off, resulting in two RCMP officers showing up in the middle of the meeting. They asked who was in charge, Gareth sheepishly introduced himself, and Richard cut in with a mock-shocked, "Gareth Cook? Is that what you're calling yourself now??" The officers actually went for their guns for a half-second before realizing that everyone else in the room was snickering.
Richard also loved to regale us with stories from his own life. There was the baseball mitt he got signed by every member of the Brooklyn Dodgers and then played with until all the autographs were worn off, because it was his only mitt and it never occurred to him not to use it. There was the copy of Catcher in the Rye he stole from the New York Public Library when he was 12 because the librarian wouldn't let him borrow it, and decades later he used it as a prop for a talk about defying censorship (it was on display at his funeral). There was the time he was trying to find the train to Baden-Baden, and his phrase book German somehow convinced other tourists that he knew what he was doing, and they were following him around like he was the Pied Piper.
In 2000, Richard was recruited (by me) to tread the boards as part of the Peanut Productions theatre troupe, to whom he brought his natural ability to ham it up and readily improvise when a line happened to escape him. He was never afraid to embarrass himself – or anyone else, for that matter. He was particularly memorable as a psychiatric patient who was convinced he was Edgar Allan Poe and wandered around in a bathrobe and a red bowtie, holding a large volume of Poe's works, and spouting off lines like, "Once upon a midnight dreary…".
We miss you, Richard, but in our hearts, your unquenchable spirit lives on.
Journalling: March 4, 2011
Thanks so much for reading.