In the "spirit" of Halloween (insert groans here — preferrably with ghostly chains rattling!), I thought I'd share some of my oddly large collection of Halloween layouts. I say "oddly large" because Halloween isn't really one of my favorite holidays — especially all the death imagery — but I've actually found it easier to scrapbook than Christmas, which is much more dear to me. With most of my Halloween layouts, I've found it easier to follow the story where it leads me, rather than using the usual colours (orange/black/purple/green) or imagery (spiderwebs/monsters/pumpkins…). In that way, Halloween becomes a backdrop rather than the focus of the layout.
This first one is actually not a Halloween layout per se — but it seemed to fit, and in a way it's more traditionally "Halloween-ish" than most of my "real" Halloween layouts.

This was what happened here on Oct. 4 — Sara's (and her sweater's, and the carpeted stairs', and the linoleum's) close encounter with a bottle of red dye intended for making homemade soap.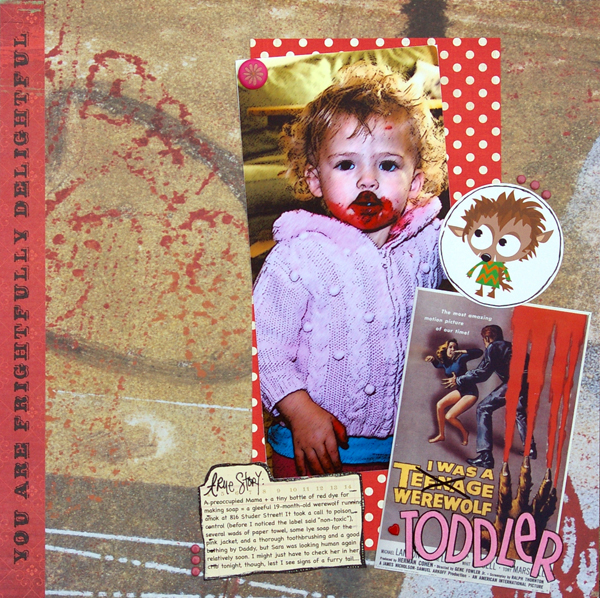 I think this layout marks the fastest turnaround from "event" to "layout" in my 14 years of scrapbooking — I had it done just hours after of the event depicted. I felt an urge to create something to immortalize this, and for once, my scrapping area was clean enough and my supplies organized enough to do it. Years before I became a mama, I'd read an article in a scrapbooking magazine that exhorted, "Don't get mad, take pictures" — so as I was taking my daughter off to clean her up, I grabbed my camera and snapped a very quick photo for posterity. It wasn't well-framed or well-lit, so I played with it in Photoshop Elements, added a couple of filters (Dark Strokes and Poster Edges), cropped it tight and printed it big.

The background is an old patterned paper from Paper Loft, which I had in the "urban/grunge" section of my patterned paper collection and thought went well, with its splashes of red against the neutrals and the "eye" in the background (or is it just me who sees that??). I found the "Frightfully Delightful" border strip in my tiny collection of Halloween papers, and the old movie poster on-line, and the cartoon werewolf was from a .99 digital kit from Two Peas. This was just a lot of fun to create.

And then this one was created a few weeks ago, as a way to remember Sara's first Halloween.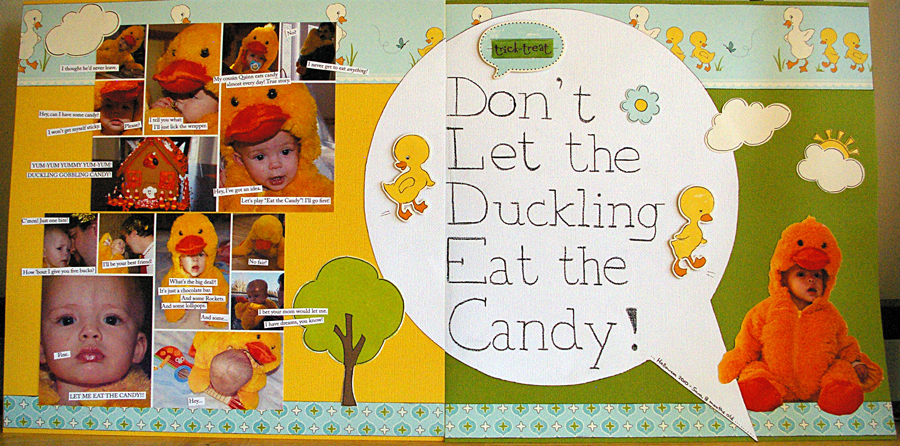 There was really no "story" to her first trick-or-treating experience — we put her in her costume, stopped by the homes of a few friends and family members, and came home. We didn't collect any candy for her, but we did have a couple of chocolates ourselves. But I had seen a layout in Scrapbooks Etc., created by Amanda Probst, in which she took visual inspiration from the book Don't Let the Pigeon Drive the Bus for a layout about her son, and she was kind enough to send me a copy of the layout for a closer look. Since I first saw her layout, we've since become big fans of Mo Willems — particularly Edwina: The Dinosaur Who Didn't Know She Was Extinct, but also the "Pigeon" books.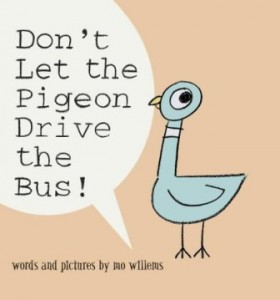 (picture from Wikipedia)
So — I decided to take Amanda's idea one step further, and I took the story (most of which is Pigeon's attempts to convince the reader, by various means, to let him drive the bus — until the bus driver shows up and drives off in the bus, and then Pigeon sees a semi and decides he'd like to drive that instead!) and re-wrote it as though Sara was trying to convince us to give her Halloween candy. I used a photo collage template from Scrapbooks Etc. to make things easier, and then added my journaling strips. The book's backgrounds are different colours on each page, and I've repeated that here too, although it wasn't really planned that way initially — I just couldn't decide what colour to use! (Here is what they look like.) Our friend Lisa Friesen, who took the pictures featured in my "Babe of the Woods" layout in my last Friday post, took the silhouetted one here as well.
Okay — it's getting late, and this post is getting long, so I'll try to get a few more Halloween layouts posted this weekend.

I'll also try to get a better photo of that "Duckling" layout — I thought I had another one, but couldn't find it tonight. Thanks for visiting.