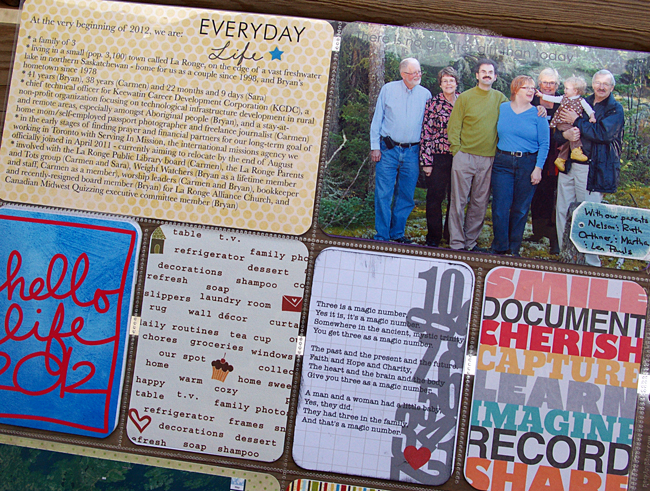 When I began Project Life in January, our expectation was that we would be moving in August to Toronto, Ontario — two provinces away from our home in La Ronge, Saskatchewan, and a city of 6 million people as opposed to La Ronge's population of just over 3,000. So I decided that I would start my album with an introduction to "us right now" — where we live, our ages, occupations, activities, etc. — so as to compare and contrast with where we were at come December. As it turns out, we are still here in La Ronge, but will be moving next year to South Africa — an even more dramatic change! — so I am very glad to have this record of our last full year, with all its holidays and seasons. Anyhow — that was the motivation behind these next couple of pages, but they will also be useful should anyone come across our albums some time in the future and want to know a little bit about the "main characters", setting, etc.

(By the way — I have been photographing these pages on my deck, as I get more accurate lighting outside, so that is the reason for the patches of white (snow!) visible in a few of the clear spots on the page protectors. Just in case you're wondering.

)
A few close-ups…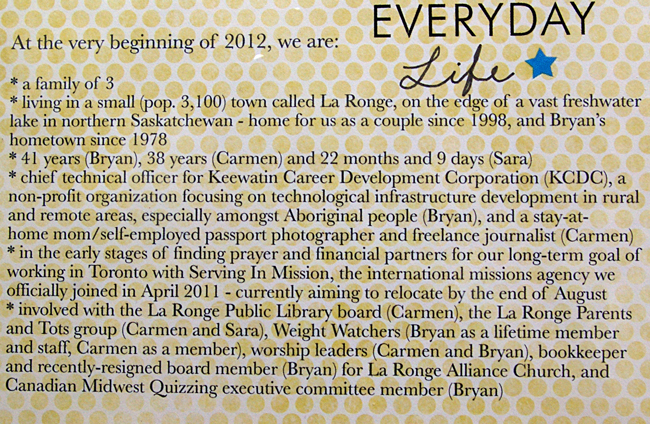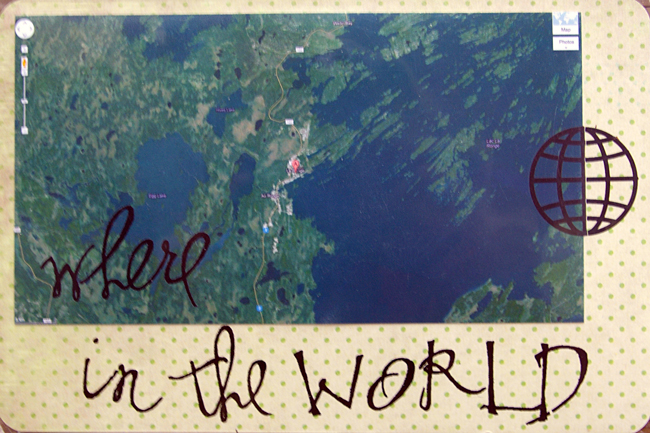 I used Google Maps to get this satellite view of our little town, the neighbouring village and several First Nations (Native American) reserves. It's neat seeing how small "our world" is, compared to the huge lakes — especially Lac la Ronge to the right.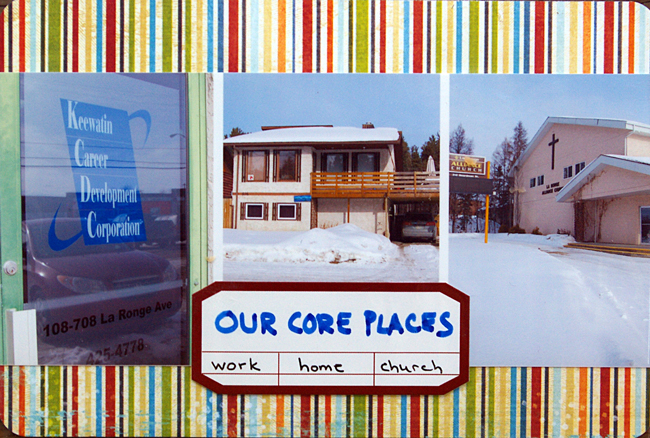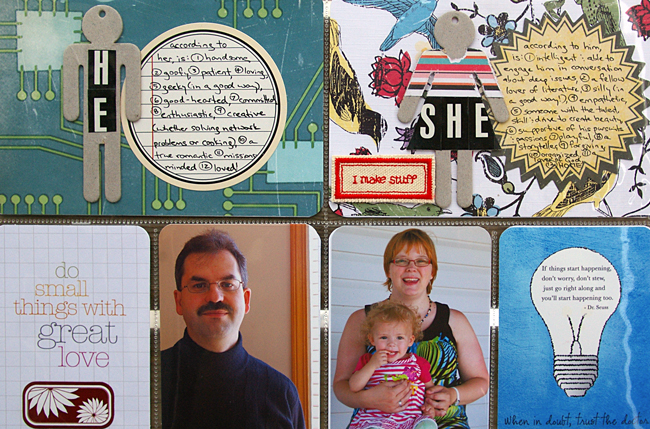 I decided to do "12 words to describe us in 2012″, from the other person's point of view — I cribbed from a love letter for my husband Bryan's words about me; that's why his words are more poetic.

Bryan works in the IT field, so I picked a patterned paper that reminded me of a motherboard, and I was taking Melody Ross's Soul Restoration class when I made these pages, so I picked a paper with colours and images that reminded me of the Brave Girls Club she runs, and added a fabric label that she designed.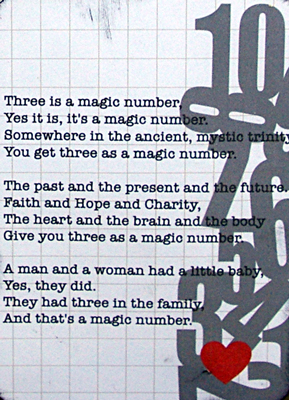 This card, and the one with the lightbulb image and Dr. Seuss quote on the blue background, were among my first attempts at using digital embellishments in my scrapbooking, so I was rather proud of them, simple as they are.

I used several lines from a "Schoolhouse Rock" song to focus on us being a family of three, and I added a glittery heart to highlight the number 3.

Thanks for taking a look at my pages — I really appreciate it.

On a technical note — please let me know your thoughts on the photos (eg. are there too many?) and their presentation. I'm working on an iMac with a large screen, so I like being able to see the full-sized images, but they may be too big for some screens. I could make it so you can click to see the bigger version. They are mostly sized to 600 or 650 pixels on the largest dimension (either vertical or horizontal). I hope the size works, but I'd appreciate any feedback.

Thanks again for visiting.