Hey there. I'm sorry that my blog has been so neglected these last few months — even though I enjoy so many blogs, I am sometimes at a loss to know what to write about on my own. I decided, today, though, to give regular blogging another go. Willow Traders — my on-line "home" — has a weekly blog hop, and I thought maybe I could commit to posting something crafty/creative once a week and linking up for the blog hop. If I can into a rhythm with that, maybe I'll try posting more often.
So — consider this my inaugural weekly post.

I hope I can do this!! Since the Willow Traders blog hops start on Fridays, that seems like a good day of the week to post. Since I like catchy titles (my journalistic background coming out there — headline writing was one of my jobs at the newspaper), I will call these posts "Fresh on Fridays".

Okay — now where to start?! I have actually been doing a fair bit of scrapbooking/card-making/playing with my crafty supplies over the last couple of months. I was offered guest design spots with two kit clubs — Burlap and Buttercups for their September kit, and Sweet Peach Crop Shop for October — so that gave me the excuse to dedicate some serious time to scrapping when each kit arrived. I've also been participating in an on-line Get Organized Challenge educational series, hosted by Tiffany Spaulding from ScrapRack, and have actually developed some systems for HOW to organize my supplies. I'm not finished by any means, but maybe that process could be the subject of a future post. And at the end of September, my friend Megan and I went to Saskatoon for the inaugural Crop & Create event organized by Scrapbook and Cards Today magazine. I will share some photos (I didn't take many — I know, I know — but there are a few, and I'm waiting for a few more from a new friend who took them because my camera batteries died) and stories of the event, my time with Megan and the projects I made, as a future post. There — now I have topics lined up, so no more "what do I write about?!" excuses for a while.
Since this is the FIRST "Fresh on Fridays" post, though, I will share my freshest stuff first.

And that would be my projects for Sweet Peach! Corrie, the owner, actually had me lined up to work with the September kit, but something went wrong — we're not sure where — and the kit never arrived. (I hope it's not sitting in some UPS warehouse, and if it is, I hope someone finds it and sends it my way!!) So, no playing with the Amy Tangerine line from American Crafts or Jillibean Soup for me.

BUT, Corrie decided give shipping a kit to La Ronge another shot, so I got the October "Sweet" kit to work with (there are two kits, "Sweet" and "Juicy", every month), along with an embellishments add-on. I had to rush a bit because the kit arrived just before I had company coming (my parents came up for the Canadian Thanksgiving long weekend) and then we were going to be out of town for several days (the reasons may be another post altogether… though not one of these crafty Friday ones), so I had just Tuesday night and Wednesday to scrap! Thank goodness I have an understanding/flexible husband and a wonderful babysitter who took Sara a day earlier than usual! I got two of my four required projects finished before we left, and had made good headway on the other two, which I finished up on Tuesday.
So, so far Corrie has just posted my first two projects on her blog, so I'll share those here as well, and put up some "sneaks" of the other two. First — a birthday card (you can click any of the pictures to see them bigger).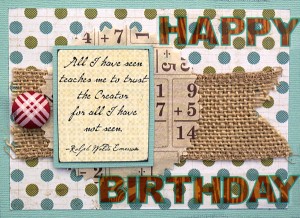 I used the blues, burlap and woodgrain letters to create a masculine, outdoorsy feeling card for my brother Curtis, who turned 33 (!!) on Oct. 18. I thought the "coffee filter" embellishment with the math questions worked well for a birthday card, with the "addition" of years.

I stamped the Emerson quote on a piece of the packaging for the brads that came in the embellishment kit; might as well recycle, eh?

The second project was created partly as a way to showcase the photo shoot that our friend Lisa Friesen did for us on the Thanksgiving weekend — these were taken in a spot less than a five-minute walk behind her house, which is right on La Ronge Avenue, our main downtown street, so yes, we do live IN the woods! But I didn't want the layout to be about the shoot itself, so instead I focused on a message I wanted to give Sara (who is napping right now…. I love that she is still pretty regular about her afternoon naps).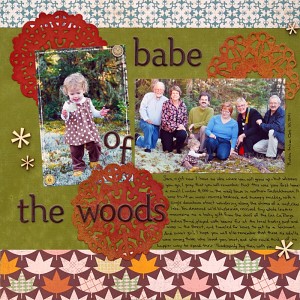 The journaling reads:
Sara, right now I have no idea where you will grow up – but wherever you go, I pray that you will remember that this was your first home – a small (under 8,000 in the area) town in northern Saskatchewan. It was built on moss-covered bedrock and swampy muskeg, with a single downtown street wandering along the shores of a vast, clear lake. You devoured wild blueberries, received tiny white leather moccasins as a baby gift from the chief of the Lac La Ronge Indian Band, played with beaver fur at the local trading post and moss in the forest, and traveled for hours to get to a Walmart. And sweet girl, I hope that you will also remember that these six adults were among those who loved you best, and who could think of no happier way to spend their Thanksgiving Day than with you. Photos taken Oct. 10, 2011.
To give the background cardstock more texture, I put it on some cracked pavement (ie. my driveway!) and used a sanding block to "emboss" it. I also embossed a border onto the focal photo with a Scor-Pal, which is a tool for scoring lines (usually for the fold on greeting cards), and then sanded the raised parts to let the white core show through. The top patterned paper reminded me of sky, and the leaves are on the 'ground' beneath us. With the kraft doilies, I used a mix of Glimmer Mist, Maya Mist and walnut ink to create some variegated colours that reminded me of autumn leaves.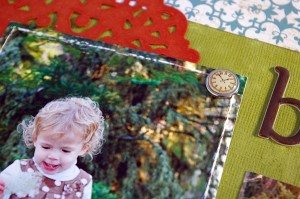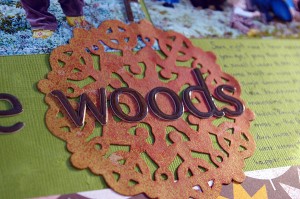 And finally, here are the "sneak peeks" of my other two layouts, "My Cupcake Project" and "Re-upholster".

Thanks for visiting.